Estate Planning & why it's important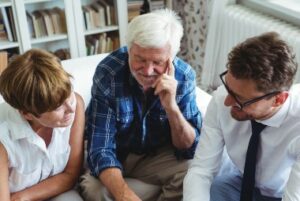 Estate planning is much more than preparing your Will. Understanding your current situation and the strategies available are significant aspects of why estate planning is so important.
In a nutshell, estate planning is being prepared and making sure your assets are distributed upon your death in accordance with your wishes. Depending on your assets, liabilities and family situation, the simpler or more complex your estate plan may become.
For many Australians, superannuation is their largest cash asset and they look forward to using this money in their retirement. Unfortunately, some people pass away and leave a significant amount of money locked away in their superannuation account. Without a binding nomination with your superannuation fund, and despite having a Will, your assets may not be distributed as you would have liked.
Important estate planning considerations:
Consult a Solicitor or Estate Planning Lawyer to draft your Will, Powers of Attorney and other important legal documents to ensure they meet your wishes, are valid and minimise the chance of dispute.
Make sure you have up to date beneficiaries on your Superannuation, Pension and Insurance policies. Remember superannuation assets (both accumulation and pension) do not form part of your estate wealth automatically.
Consider the impact on your Centrelink benefits should your spouse pass away.
Talk to your family and beneficiaries about your wishes. This should include your financial situation, advanced health directive and how you would like your final wishes and funeral to be carried out.
Speak to your Financial Planner about the best strategies for the development of your Estate Plan.
Estate planning is important and can be complex depending on the circumstances, and you should always consider seeking professional assistance first.
Please do not hesitate to contact our office if you require further information on (03) 9848 5933.
Source:  https://www.fiducian.com.au/why-is-estate-planning-so-important/?utm_medium=email&_hsmi=160459480&_hsenc=p2ANqtz-9-XWOcmiVh4Na5qvFGmVur6Z-uC2-ddS2K-JXv1bB4zO9m_WdkF_sAy3TRbPVgaSa8HpzyZguW_ZtiXH3XxMbCbB8BCA&utm_content=160459480&utm_source=hs_email
Lindale Insurances Pty Ltd ATF Lindale Insurances Trust ABN 27 027 421 832 is a Franchisee of Fiducian Financial Services Pty Ltd, Level 4, 1 York Street, Sydney NSW 2000. AFSL 231103 ABN 46 094 765 134.
The information (including taxation) provided on this website is general in nature and does not consider your individual circumstances or needs. Do not act until you seek professional advice and consider a Product Disclosure Statement.
Disclaimer:
The views expressed in this publication are solely those of the author; they are not reflective or indicative of Fiducian. They cannot be reproduced in any form without the express written consent of the author.