What are our clients saying about us?
Stephen
I have been utilising the services of Roy A McDonald for in excess of ten years. I learned of them through my employment with a business that had been using them for many years, and as I could see they were very reliable and did a good job, I decided to use them for my own requirements. Mostly this was with Trevor, who has been great, but for my latest set of tax returns Cynthia has been my accountant, with support from Silvia. I have been entirely satisfied with the service I have received, including a seamless transition from Trevor to Cynthia. It is a relief to know I will continue receiving the kind of service I had been accustomed to.
Stephen
Hans Van Lunenberg
I am more than happy with the service provided by Roy A McDonald accountants, they are attentive to my needs whilst providing excellent opportunities to minimise tax payable.
I would highly recommend the Team at Roy A McDonald.
Thanking you once again for the excellent service,
Hans Van Lunenberg
Victoria
Anthony & Grace
We have been clients of Roy A McDonald for over 7 years. Throughout this time, we are very happy with the services provided by Trevor, their accountant, which was always performed in an efficient and professional manner.
When it is time to lodge our tax returns, one quick phone call to book for an appointment is all we need and within a very short period of time, our tax returns would be lodged and the result is always positive.
We are very satisfied with the excellent services provided by Roy A McDonald and have no hesitation in recommending the company to any potential clients.
Anthony & Grace
Victoria
Rex Corran
Roy A. McDonald & Lindale Insurances have been my business & personal tax accountant & financial adviser for over 30 years. With their help, I am now finalizing my retirement & looking forward to a simpler financial arrangement. During those 30 years, Roy & his team have been wonderful in providing financial advice. They are readily accessible & quick to respond to the requirements of my business & personal tax. I recommend their services highly.
Rex Corran
Redman's North Balwyn Hardware
Linda Shannon
I am a new client this year to Roy A Mc Donald and have been so impressed with their friendly, knowledgeable guidance in assisting me with both my Company and Personal Tax Return. Trevor was always available to answer my many questions and very thorough with his Company report to me. Thank you heaps!
Linda Shannon
Geoff Mumford
Thank you for your help and assistance over some time which has always been excellent and personal.
Helen & Peter Farmilo
Thanks very much for your great service again this year.
Dennis & Heather Barnes
It is with confidence that we can recommend the business of Roy A. McDonald to any prospective clients. We have been dealing with this business for over 25 years. We have received practical and solid advice regarding our business partnership (running a farm), taxation options & personal financial situations.
The staff are very pleasant, professional & friendly & create an atmosphere of trust.
Dennis & Heather Barnes
John C
John has been a client since 1992 and wrote and signed a testimonial about his experience with Roy A. McDonald.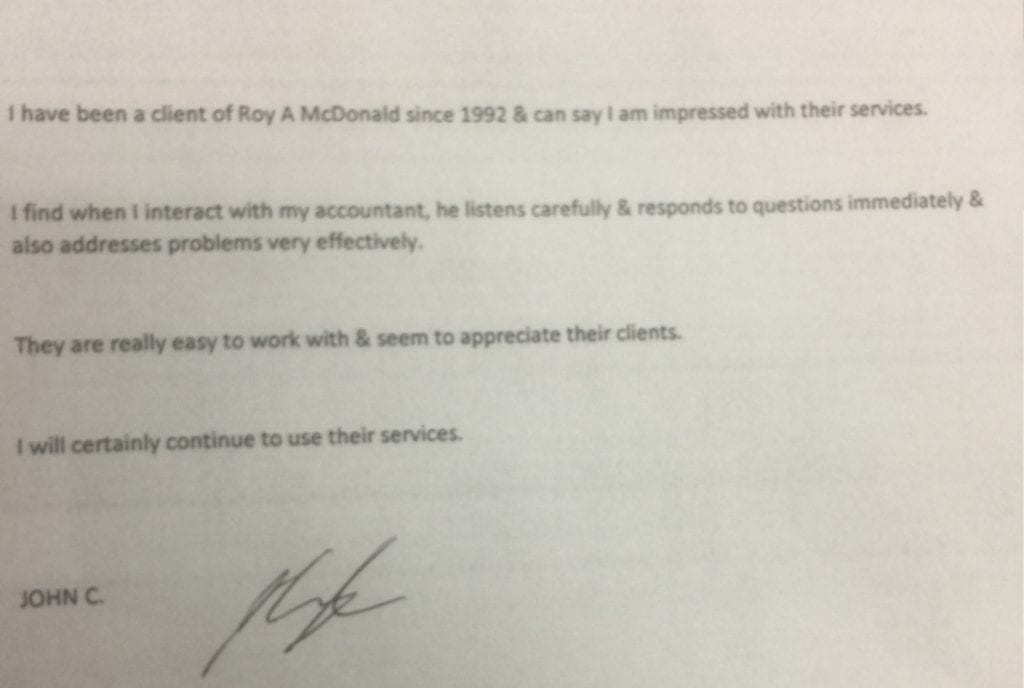 Margaret Fisher
I am very impressed with the friendly, efficient service. I find the accountant is very knowledgeable. He has prepared my tax return for the last 6 years with excellent results & on this basis, I have no hesitation but to continue to utilise the services of Roy A. McDonald.
Margaret Fisher
Andrew Quigg
I am writing this testimonial on behalf of Roy A. McDonald as they have been my taxation agents for 28 years & I have found them to be always diligent & working toward my best interests.  Trevor & Margaret are efficient, competent & friendly, & always make me feel like a valued customer. They take a personal interest in my life and try to advise me of any financial matters which may be relevant.  I hold them in high regard as taxation agents & wish them all the best in the future years.
Andrew Quigg
Jason- Platinum Plumbing Testimonial
A Testimonial regarding the value of going above and beyond
Brad Lynch Hire a Hubby
Brad has been a client of Lindale Insurances for over 3 years. He explains the differences between Lindale Insurances and his experiences with other financial planners.
Grant Jennings- Jigsaw Projects
Grant has been long standing client of Lindale Insurances for the past 3 years and provides details of why you should use us too
Dave from Dave's Plumbing and Gas Fitting
Dave has been a client of ours for a number of years now. Dave describes his experience using Roy A. McDonald/ Lindale Insurances
Richard
Roy A. McDonald has been preparing the tax returns of my wife, my self-managed superannuation fund and myself since 2005, as well as giving us general tax advice. At all times the service has been very professional and knowledgeable and he has always been fully on top of the frequent changes in superannuation and tax legislation. Margaret has also been a great help to us as back-up. In addition, Mark has assisted us from time to time on the financial planning side of the business. We have no hesitation in recommending this firm.
Regards, Richard
Grace & Anthony
We were recommended by our friend to the accounting service provided by Roy A. McDonald & Company three years ago. Since then, we have been very impressed by their professionalism, friendliness and efficiency. We shall continue to utilise their great service and will have no hesitation in recommending them to family and friends.
Sincerely, Grace & Anthony
Barry & Maxine
We have utilized the accounting and advisory services of Roy A. McDonald since 1991 & continue to do so.
We continue to be impressed by the high standard of professional service we receive.  Margaret on reception is always friendly and efficient.  Trevor has been extremely competent in dealing with our varied taxation situations and for some years that extended to other family members with their small business.  From time to time Mark has provided valuable guidance and advice on a range of financial matters.
We remain very satisfied clients.
Barry & Maxine
Bill and Janet Fox
We have found the service at Roy A. McDonald to be prompt and friendly. If a problem does arise it is quickly resolved. We have been a satisfied client for 25 years.
Bill and Janet Fox
Alex
Mark Felton of Lindale Insurances Pty Ltd has been my financial adviser for the last 14 years. As a self funded retiree I could not have had any better help in setting up my estate for the future.
I find the personal attention and availability from Mark Felton exceptional under all circumstances.
I would strongly recommend my friends and acquaintances to consider his services.
Alex
Betina
Three years ago I was introduced to Mark Felton of Lindale Insurances Pty Ltd, and he has been looking after my financial interests since.
His company have been able to provide me with worry free solution to the management of my finances.
I have confidence in Mark Felton's ability to look after my interests. He is always patient and available.
I would recommend anyone who is near retirement, entering the superannuation stage, or just requiring financial advice, to discuss their preferences with Mark Felton
Betina
Elizabeth
My husband and I have been clients of Roy A. McDonald for over 30 years. Over this time they have prepared our tax returns and done all the formalities for our family trusts and superannuation fund. We have found them to consistently be reliable, efficient and always on time. We would have no hesitation recommending them for these services.
Thanks
Elizabeth
Hendrik
After more than a decade Roy A. McDonald had been keeping my finance's in tip top shape – I moved out of the area and had another accountant do my finance's One realises just how good Roy A. McDonald when the other account fails to deliver what Roy A. McDonald does every day. I am very fortunate to be back with Roy A. McDonald even if I need to travel further, but their service is beyond measure.
Hendrik – Minus VIII.pty.
Graeme and Elizabeth
We have been clients of Roy A. McDonald since 1978, utilizing their services of taxation accounting & financial management.  We were referred to them by a life insurance agent who noticed that we had fallen into the hands of some very average accountancy.
Roy moved quickly to set up the appropriate structures that would put us on a new path of recovery from the past, & progress for the future.
At times, some of the calls seemed tough, but looking back, we now fully appreciate the wisdom of their advice as we enjoy the benefits thereof.
Roy & his team took care of an area that was completely outside of out skill-sets, & guided us over the years with diligence, professionalism & close personal attention.
Regards,
Graeme & Elizabeth
Kim and Sue Hollinrake
Roy McDonald and his team started looking after our tax affairs thirty years ago after being recommended by a work colleague. Needless to say things have changed a bit since then. My wife Sue has retired and I have moved from being an employee to contracting within a partnership registered for GST, back to employment and now I am semi-retired with part time work as a contractor. Twenty years ago we rolled our various funds into a managed super fund set up as a company.
Through all these changes, Roy and his staff have managed all our finances under the one roof. Tax, BAS, partnership set up, financial planning, managed super fund, the lot. We have great confidence in the accountant who handles the tax affairs and Mark who looks after the financial planning and super fund management. They work together to optimise our affairs and make sure that there are no surprises come tax time. Thanks to Roy and his team we are now looking forward to living comfortably in retirement. We highly recommend them.
Kind regards,
Kim and Sue
Fiona
Wow, That's what I call exceptional service.
Thank you, cheers Fiona
Pamela
Thank you for your expert advice and we would like to say having your help has made our Tax Returns quite painless.
The firm has been very helpful.
Regards
Pamela
Allison
Please pass on to your accountant that he is a genius. Great turnaround too – thank you.
Well deserved and our accountant had been great support for their business entity and rental property.
Thank You
Allison
Jodi
When I was first introduced to Accounting/Financial Planning practice, Roy A. McDonald/Lindale Insurances Pty Ltd, it was roughly five years ago. My family consisted of my husband and myself and three children. We lived in a villa amongst just under 300 other units – the body corporate in the complex was making us feel like villains not like owners. We had credit card debit – not out of control but really hard to keep on top of. My husband worked full time and I had part time income coming in. We wanted to move out but with a new baby at home the prospect was a bit overwhelming.
I was one of those people who dreaded tax time – who felt invaded whenever someone looked through my personal papers. If I felt like that with tax – how would I feel with someone looking at all my financial matters? It wasn't like that with Roy, he sat down and asked where we wanted to be and showed us the path to get there. Through Roy's efficient staff we managed to get more tax back than we could have imagined possible. If I ever had a question I would ask and it was never a problem.
Before we knew it we were moving into a four bedroom house and had no credit card debit. We were in a position that we could have another child and soon enough Kaitlyn was born.
My ultimate dream was to live on acreage, to be able to grow fresh fruit and vegetables and allow the children to have the space to run. In May on 2009, I achieved that goal. I now live on a 7 acre property just south of Brisbane and am incredibly happy.
I didn't realise how much financial stress I was under, until I was shown the way out. I am now in a position where I have a strong safe future and if something did go wrong my family would be just fine.
Over the last few weeks we have been affected by the Brisbane floods, our house has remained dry but we have had damage to our property. As much as this is upsetting and frustrating, our finances are in a situation where this is an annoyance not a drama.
I believe I would still be okay had I have not ever been introduced to the team at Roy A. McDonald/Lindale Insurances Pty Ltd, but I certainly wouldn't be in the situation I am in now. I have a great life which I am able to enjoy without fear of what may be lurking in the future.
Kindest Regards
Jodi
Mrs Argentino
Mark Felton of Lindale Insurances Pty Ltd has been my financial planner for two years.
I have found him to be approachable, helpful and accessible in all my dealings. Before my meeting with Mark I was very concerned about my future financial security. However, in my first meeting with Mark, I was put at ease regarding my financial situation and felt confident that I was able to achieve financial security in the future.
The advice given by Mark was very clear and easy to understand. Mark has always been willing to answer any question I may have and nothing is too much trouble. I now feel that my financial security is on track and am able to confidently make wise financial decisions. Mark has been very up front and clear about all fees and charges related to his services. I would happily recommend him to anyone looking for a financial planner.
Yours Sincerely,
Mrs Argentino