How to plan and save for the dream family holiday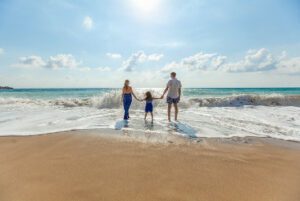 As Benjamin Franklin famously stated, "By failing to prepare, you are preparing to fail", and this statement is never more valid than when your sights are set on a family holiday.
After years of travel restrictions, the thought of taking off to an exotic location is more than appealing – it feels like something we need to do to reconnect with one another and with the world. You have seen enough of the walls that isolated you and your family, you used COVID-19 lockdowns as an opportunity to explore every bush walk, beach or park near your home, and now you want a change of scenery.
To ensure that your family holiday is seamless, there are some essential steps to consider – the first being to choose your destination and your ideal time away, as this will give you an idea of budget. A family holiday to a Club Med will be less expensive than Los Angeles with tours of Universal and Disneyland. Once you know the sort of holiday to plan, then draw up a budget.
A budget should include expenses such as pre-flight vaccinations, flights or other fares, visas, accommodation, car hire, public transport costs, insurance, food, entertainment, and incidentals. Check online for package deals as considerable savings may be available to you if you book and pay in advance.
Assuming you are planning your family holiday two years from now, and that it will include four airfares at $2,500 each plus a daily budget per person of $200, you will need to save $204 per week. After 18 months, you will have saved close to $16,000 which can be accessed to pay for any pre-paid elements or discount options.
Saving, no matter the amount, is all about discipline but there are tips and tools to make it easier:
Open a dedicated holiday savings account which you will not access for other spending. There are a range of account options which pay higher interest but limit withdrawals
Cut your costs
Increase your savings.
Ways to cut your costs
Refinance your mortgage – you may not look at your home loan very often, but you may be able to secure a better rate
Evaluate subscriptions – your children won't mind getting rid of Foxtel if you still have Disney+, especially if they know the real Disneyland is the pay-off
Entertain at home instead of meeting friends at a restaurant – an average 2-course meal for two adults, 2 children, plus a cocktail and a bottle of wine can easily come in at $185 – that's more than the cost of an entry pass to Universal Studios in Los Angeles
Sell unwanted items on eBay, Facebook Marketplace, or Gumtree. Items that sell well include clothes and toys for children, vintage and retro furniture and designer labels, but it's often surprising that your clutter (or a-bit-too-tight-now dress) may be exactly what somebody else needs
Be energy-wise and turn off appliances at the point when not in use and have shorter showers – by halving shower times from twelve minutes to 6 minutes, a family of four could save over $1,000 per annum in water and heating costs. For more information, visit this website
Pay credit cards off each month in full – interest rates on cards average at 19.94%.
Investing to increase your savings
Your two-year investment horizon may preclude you from some long-term savings options; however, there are several low-risk opportunities to increase your savings in the lead-up to your holiday. These include:
Direct deposit from your salary account/s to your dedicated holiday account
Term deposits – rates vary widely so do your research to secure the best rate for you
Exchange Traded Funds (ETFs) – these are somewhat like a managed fund but are listed on the stock exchange and are generally more tax efficient than a managed fund or a Listed Investment Company (LIC). You purchase units through your financial adviser or broker
Bonds – with a smaller initial buy-in, you might consider Australian Government Bonds (AGBs) traded via the ASX in the form of CDIs. Interest can be fixed, floating (for example, cash rate +1.5%), or indexed against the consumer price index (CPI)
Managed Funds – some have a small initial minimum investment and distributions could be paid into your holiday savings account. If you already hold shares or units in a managed fund, you could consider directing dividend or distribution payments to your holiday savings account.All investments carry tax liabilities so speak to your adviser about the best way to structure your finances to limit those liabilities. That way, you can take the family on holiday without wondering what hidden costs await you down the track.
For more information and tips on financial planning, book a free consultation with our Fiducian Financial Planner.
Source: https//www.fiducian.com.au
Lindale Insurances Pty Ltd ATF Lindale Insurances Trust ABN 27 027 421 832 is a Franchisee of Fiducian Financial Services Pty Ltd, Level 4, 1 York Street, Sydney NSW 2000. AFSL 231103 ABN 46 094 765 134.
The information (including taxation) provided on this website is general in nature and does not consider your individual circumstances or needs. Do not act until you seek professional advice and consider a Product Disclosure Statement.
Disclaimer: The views expressed in this publication are solely those of the author; they are not reflective or indicative of Fiducian. They cannot be reproduced in any form without the express written consent of the author.