Why Do Women Worry About Money?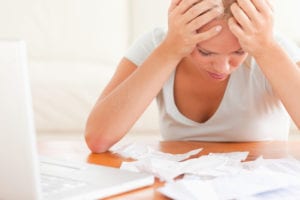 Did you know that women tend to worry more about money than men? Around 42% of women stress over their finances daily or weekly, which turns out to be quite a bit more than the overall amount of men that are reported to feel this kind of anxiety. Additionally, a recent survey revealed that 52% of women are unsure of whether they'll be able to meet their financial goals, too.
It also showed that women are often more timid when it comes to the potential financial risks of investing cash in the stock market, often preferring the comfort of knowing that their cash is safe in an ordinary savings account. In fact, nearly 47% of women find that when it comes to cash, reducing their risks is the top priority – which is more than the 27% of men who feel the same.
Women tend to prefer their financial risks to be as low as possible, with almost 35% of women and around 15% of men preferring very low risk saving options. However, this isn't always the best mindset to have.
Why? The share market, over time, can often reward an individual with a higher return than the increased rates that can come with storing cash in a typical bank account.
This can pose a problem in the grand scheme of things because of the long-term differences between investing in the share market and cash. Generally, those who invest using the former will have much larger savings than those who invest using the latter – often by more than double the amount.
The fact that women tend to earn less than men, have a lesser percentage in senior positions and tend to take more career breaks can only make it more important for them to ensure that their money works hard for their needs.
However, in most cases, it's a fear of the risks that can come with investing (as well as the numerous obstacles that can often stand in the way) that prevent women from deciding to take a chance and invest in something which could benefit them in the future.
In general, women tend to prioritise financial goals over financial gain (for example, paying off a mortgage, or having enough cash to provide for their family) – and while this isn't always a bad thing, it can sometimes prevent them from making the most of their money.
The same survey also shows that over 50% of women feel that they don't have enough spare cash to invest in the stock market, which is quite a bit more than the 35% of men – and this may be because almost half of the surveyed women think they'll need a lot more initial outlay to invest than they actually do.
Lastly, nearly 30% of women feel at least partially confident with investing, while around 51% of men are, on the whole, more positive about the experience.
Sources:
The number one reason women worry about money – https://moneymag.com.au/women-worry-money/
Barry, L(2019) 'Research finds women manage money better than men' Better Homes and Gardens, https://www.bhg.com.au/women-manage-money-better-than-men
Lindale Insurances Pty ltd ATF Lindale Insurances Trust ABN 27 027 421 832 is a Corporate Authorised Representative of Millennium3 Financial Services Pty Ltd AFSL 244252and ABN 61 094 529 987. This information (including taxation) is general in nature and does not consider your individual circumstances or needs. Do not act until you seek professional advice and consider a Product Disclosure Statement. For Australian Residents Only.
Disclaimer: The views expressed in this publication are solely those of the author; they are not reflective or indicative of Millennium3. They cannot be reproduced in any form without the express written consent of the author.