Purchasing a Business – How We Can Help
Purchasing a business that is in trouble and turning it around is never easy. Especially with competition coming from overseas players from Asia. However, knowing your numbers and optimising your business structure is critical in having a business with sustained success.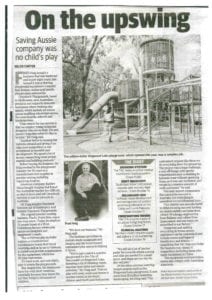 That is what one of our clients, Fred Haig, has been able to do. Purchase a bankrupt business, face cost pressures from Asia and been able to succeed through sound business management. With larger business gives rise to increased compliance issues, but you also have the ability to structure processes and procedures to ensure the business optimises its running and compliance obligations.
They have just completed a massive playground at Ringwood Lake. The business specialises in custom-made equipment and designs.
We have been able to provide Mr Haig guidance in business and tax planning for the Haig Group. It is one thing to assist the business, but it is even more important for the Haig group to  be optimising the business performance with the family group in mind.
Being a family run practice for over 30 years, we know the issues facing business and family groups. Issues such as thinking holistically, decisions you make about a business and the flow on effects this has towards the family group.